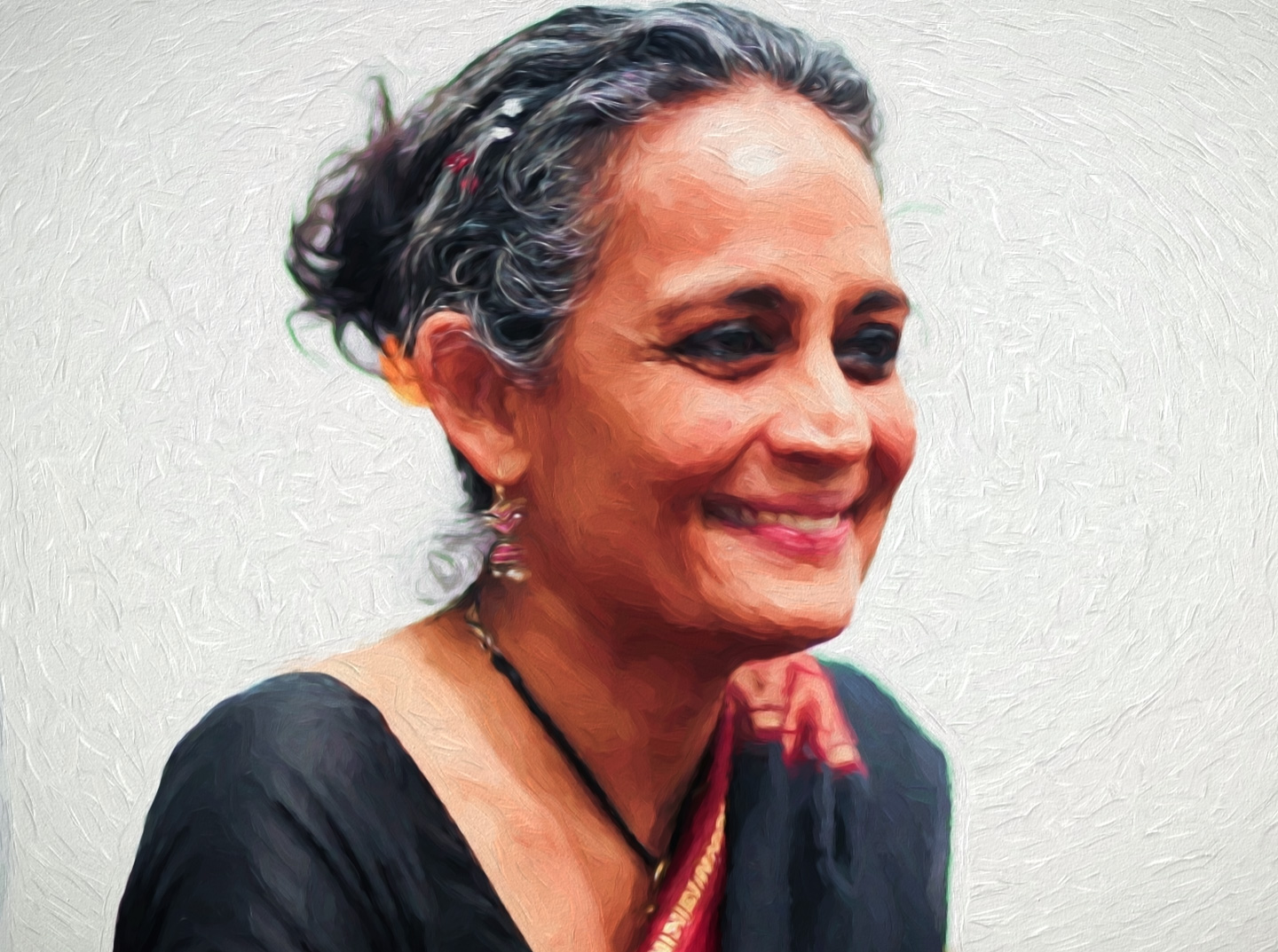 Arundhati Roy (born November 24, 1961) is an Indian novelist, activist and a world citizen. She won the Booker Prize in 1997 for her first novel The God of Small Things.

Roy was born in Shillong, Meghalaya to a Keralite Syrian Christian mother and a Bengali Hindu father, a tea planter by profession. She spent her childhood in Aymanam, in Kerala, schooling in Corpus Christi. She left Kerala for Delhi at age 16, and embarked on a homeless lifestyle, staying in a small hut with a tin roof within the walls of Delhi's Feroz Shah Kotla and making a living selling empty bottles. She then proceeded to study architecture at the Delhi School of Architecture, where she met her first husband, the architect Gerard Da Cunha.

The God of Small Things is the only novel written by Roy. Since winning the Booker Prize, she has concentrated her writing on political issues. These include the Narmada Dam project, India's Nuclear Weapons, corrupt power company Enron's activities in India. She is a figure-head of the anti-globalization/alter-globalization movement and a vehement critic of neo-imperialism.

In response to India's testing of nuclear weapons in Pokhran, Rajasthan, Roy wrote The End of Imagination, a critique of the Indian government's nuclear policies. It was published in her collection The Cost of Living, in which she also crusaded against India's massive hydroelectric dam projects in the central and western states of Maharashtra, Madhya Pradesh and Gujarat. She has since devoted herself solely to nonfiction and politics, publishing two more collections of essays as well as working for social causes.

Roy was awarded the Sydney Peace Prize in May 2004 for her work in social campaigns and advocacy of non-violence.

In June 2005 she took part in the World Tribunal on Iraq. In January 2006 she was awarded the Sahitya Akademi award for her collection of essays, 'The Algebra of Infinite Justice', but declined to accept it.


To love. To be loved. To never forget your own insignificance. To never get used to the unspeakable violence and the vulgar disparity of life around you. To seek joy in the saddest places. To pursue beauty to its lair. To never simplify what is complicated or complicate what is simple. To respect strength, never power. Above all, to watch. To try and understand. To never look away. And never, never, to forget.
To call someone 'anti-American', indeed, to be anti-American, (or for that matter anti-Indian, or anti-Timbuktuan) is not just racist, it's a failure of the imagination. An inability to see the world in terms other than those that the establishment has set out for you: If you're not a Bushie you're a Taliban. If you don't love us, you hate us. If you're not Good you're Evil. If you're not with us, you're with the terrorists.
I'm living to the edges of my fingernails, using everything I have. It's impossible for me to look at things politically or in any way as a project, to further my career. You're injected directly into the blood of the places in which you're living and what's going on there.